Providing Spruce Grove With Comprehensive Dental Services
When opening our office at the corner of Jennifer Heil and Spruce Ridge Drive, we knew exceptional and comprehensive dental care services would be its foundation. Yet, what we wanted to do was to offer something above and beyond the dentistry itself – we wanted to offer an incomparable experience. From that came the beautiful, modern design of the office, well stocked coffee bar, the in-chair cable TV access with personal, wireless headsets and a team dedicated to making all of your visits efficient, yet not rushed, effortless and stress-free.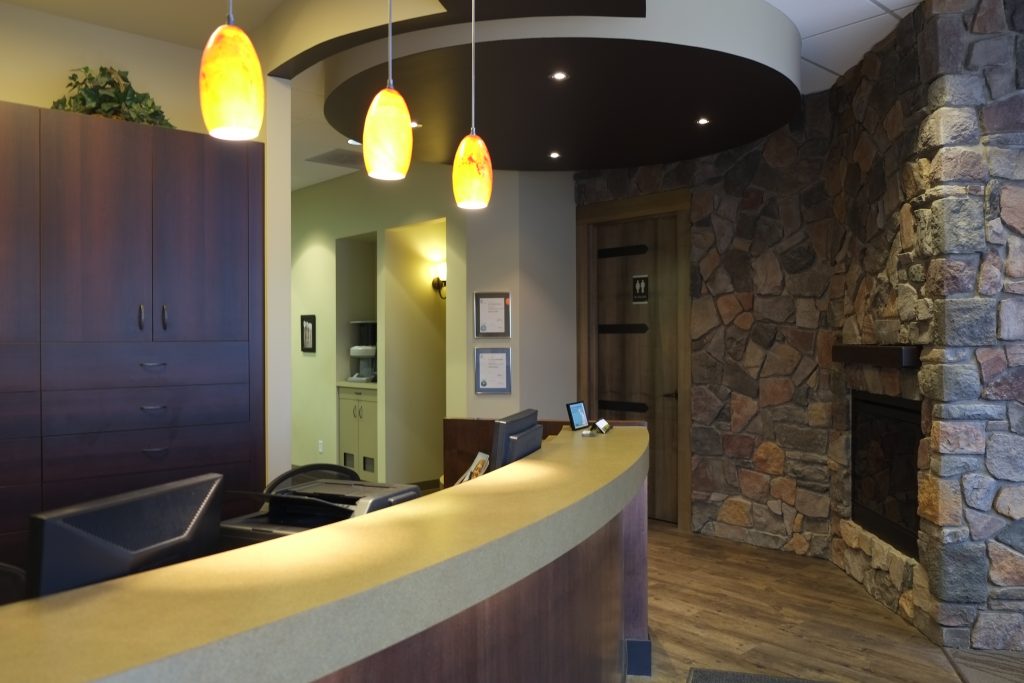 Examinations: We use our clinical skill and technology to diagnose any oral health problems or concerns you may have. Examinations include the taking of digital x-rays, intraoral pictures, and a full visual examination and discussion of a personalized treatment plan.
Emergency Examinations and Treatment: Broken teeth, tooth aches, swelling, sensitivity and pain in the teeth, gums, jaws is examined by the dentist. Specific treatment options for relief of the pain are discussed. In some cases when infection is involved, patients require taking antibiotics prior to having dental treatment. If needed, antibiotics or other medications these will be prescribed at your dental visit.
Dental Hygiene Services: Our Registered Dental Hygienists provide our patients with comprehensive dental hygiene therapy including disease education, scaling (with ultrasonic scaler in conjuction with hand instruments), root planning, and oral health care instruction. If you have problems with sensitivity during hygiene treatment, our hygienists may recommend local freezing and topical anaesthetics (gel or rinse) to make your visit as comfortable as possible.
Consultations: In some cases in-depth discussion and time is required to explain, understand and plan dental treatment.
Restorative services: Whether you have a newly diagnosed cavity, an old filling that needs replacement or a broken tooth, our dentist has a restorative option to suit your unique case. Ranging from traditional or composite(tooth-colored) fillings to crowns, we strive to educate our patients about their unique treatment options.
Crowns: Crowns are done to repair fractured teeth, rebuild teeth weakened by repeated filling, Root canaled teeth, and to restore full function to a tooth. Cosmetic crowns are done to correct overlapping, discolored or misshaped teeth.
Bridges: A fixed bridge replaces one or more missing teeth. It is cemented in place to restore full function.
Endodontic/Root Canal Treatment: If the nerve inside a tooth is dying or has died then a root canal may be chosen to save the tooth. A root canal is essentially the removal of the tissue from inside the tooth – the root remains, but the tooth itself is no longer alive.
Preventive Sealants: Coating placed into the deep grooves on teeth as a preventative treatment where cavities are most likely to occur.
Surgical Services: We offer our patients a wide range of surgical services ranging from simple extractions and gum surgeries to more complicated procedures such as the removal of impacted wisdom teeth and dental implant surgery.
Veneers: Veneers are porcelain shells bonded to the tooth to correct defects, discoloration, close spaces or reshape teeth.
Tooth Whitening: Custom fitted trays and whiteing gels used at home to achieve whitening of your teeth.
Athletic Mouth Guards: Custom fit mouth guards are made to reduce or prevent concussion and damaged teeth.
Children's Dentistry: We recommend children start with their first dental visit around 18 months of age. This allows us to begin introducing the child to the dental office, and is early enough to intercept any early dental problems.
Grinding Guards/ Splints: Custom-made occlusal guards to reduce effects of grinding and clenching habits on teeth.
Dental Implants: Modern technology has allowed patients with missing teeth to replace them with dental implants. A crown is placed over an implant to replace a single tooth. Implants can also be done to stabilize poorly fitting dentures.
Referral to Specialists: Our dentist has close professional ties with a variety of dental specialists. If you have a unique situation requiring referral, we will make sure that you will be seen by the right person.