Crowns are a cosmetic restoration used to strengthen a tooth or improve its shape and colour. They are most often used for teeth that are broken, worn, have had a root canal or partially destroyed by tooth decay.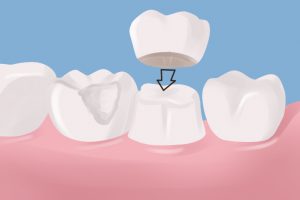 These restorations are "cemented" onto an existing tooth and fully cover the portion of your tooth above the gum line. In effect, the crown becomes your tooth's new outer surface. They help to strengthen and reinforce your teeth. Crowns can be made of porcelain, metal, or both. Porcelain crowns are most often preferred because they mimic the translucency of natural teeth and are very strong.
How are crowns made?
They are done in two appointments. The first appointment the tooth is prepared for the restoration and an impression is taken and sent off to the lab. A temporary crown will be made to protect your tooth in the mean time. A colour shade will be chosen to make the crown match with your your other teeth.
The second appointment is very easy and quick. The temporary crown will be removed and the real crown will be bonded on.