Have you ever thought what is a dental implant?  What are the benefits? Can anyone get dental implants?  Read the following questions and answers.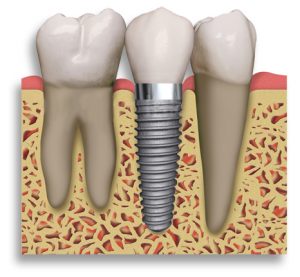 1. What are dental implants?
A dental implant is an artificial tooth replacement that looks and performs much like a natural tooth. The implant itself is a small titanium screw inserted into the jawbone, onto which a restoration is fitted. The result is a natural-looking tooth replacement that has few of the drawbacks of traditional dental treatments, prevents bone loss and can last a lifetime.
2. What are the benefits of dental implants?
• Implants are fixed in place and do not move
• Implant-supported teeth look, feel and function just like your natural teeth
• Dental implants allow you to eat all the foods you like
• Dental implants have proven to be reliable, with a 95% or higher success rate
• Dental implants and your new teeth can be placed without impacting other healthy teeth
• Dental implants are placed into and fuse with the bone in your jaws, providing stability and preventing bone loss
• Dental implants provide a long-term solution to your dental problems, often lasting a lifetime
• With dental implants, you avoid the potential pain and embarrassment of dentures
3. How successful are dental implants?
Dental implants successfully integrate with the jawbone in over 97% of the cases. In those rare cases where an implant fails to properly attach to the bone, your dentist will remove the implant and place a new one in a slightly different position to achieve better integration with the bone.
4. Can anyone get dental implants?
If you have lost a single tooth, several teeth or all of your teeth, you are a candidate for dental implants.
As dental restoration techniques and technology have advanced, dental implants have become the preferred treatment for tooth loss. Dental implants surpass conventional treatments such as crowns, bridges and full or partial dentures, with greater benefits and fewer drawbacks.
5. What is involved in getting dental implants?
Traditional dental implant treatment involves an exam by your dentist, placement of the implants by your dentist, several months of healing time, then creation of your prosthesis (new teeth) by a trained restorative dentist. The entire process can take up to 12 months, or more.
Newer technologies (such as the 3-D CAT scanning, implant design, and treatment protocol) allow new teeth to be placed the same day as the dental implants, greatly reducing treatment times.
6. Who places dental implants? Where do I go for my treatment?
Though the treatment may be performed by any licensed dentist, most dental implants are placed and restored by specialists with additional training, qualifications, and experience in implant dentistry. Foothills Dental Implants has specialists on staff with years of experience focusing on dental implants, and our practice is built around providing the full range of services necessary to perform the entire procedure under one roof.
7. Does insurance cover the cost of dental implants?
Dental implants may qualify for some insurance coverage, but is somewhat limited, similar to the coverage provided for a bridge or partial denture.
8. How do I care for my dental implants and new teeth?
Caring for implant-supported teeth is essentially the same as caring for your natural teeth, including daily brushing and regular visits to your dentist for cleaning. The primary difference is with flossing, which we will explain to you once your treatment is complete.
9. Am I too old to have implants?
Age has not proven to significantly affect the success and effectiveness of dental implants. Both younger and older patients can benefit greatly from the treatment. The primary issue to be considered with elderly patients is overall health, and a number of medical conditions can preclude treatment. For some patients, we may require a physical, blood studies and cardiograms, in addition to a full medical history and a release from your medical doctor.