Periodontal Disease (infection of the gum and bone) is now the number one cause of tooth loss in North America.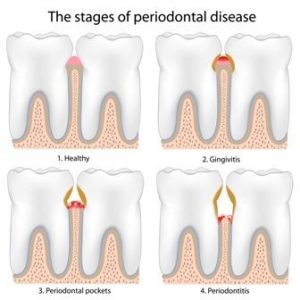 When we clean our teeth at home it is very difficult to reach underneath the gumline. Plaque, tartar, bacteria and toxins will start to accumulate in the space between the gum and teeth, called periodontal pockets. When the bacteria are left there, they will attack the gum and cause gum disease (gingivitis). Furthermore, with time the bacteria will infect the bone and cause bone loss and bone disease (periodontitis). The gum and bone provide support for our teeth and help anchor them inside our mouths. Over time, significant gingivitis and periodontitis will result in inadequate support for our teeth and will result in mobile, painful and infected teeth. Often periodontal abscesses, bad breath and pus will form.
Regular brushing and flossing at home are important, but are often not enough to prevent Periodontal Disease. Studies show that most adults require gum therapy (professional scaling and cleaning) at least every 3 or 4 months to adequately remove the plaque, tartar, bacteria and toxins as they accumulate underneath the gumline (in the periodontal pockets). It just makes sense that if the bacteria are removed on a regular base, they are not allowed time to attack the gum and bone supporting our teeth.
Due to improvement in health care, people are living longer and longer. It is not unusual to hear of people living into their eighties and even nineties these days. People are living longer and have a better quality of life compared to their grandparents. Consequently we just need our teeth to be with us for a longer time.
When you think about it, we use our teeth daily to eat, smile and talk. Teeth help to support our lips and checks which affect our facial contours and features. Our smile is often the first thing people notice when they see to us. Our teeth are such an important part of our daily function and quality of life.
There are numerous researches and studies showing that the mouth is linked to the rest of our body. Bacteria in our mouth can enter the blood circulation through the blood vessels in our gum and bone. Blood travels throughout our body and returns to our heart to be pumped out and recirculate again. Therefore, gum and periodontal disease are linked to various body illnesses such as heart disease and diabetes. In fact, one of the easiest ways for bacteria to enter our body is through our mouth.