Get to Know Dr. Hanin Musbah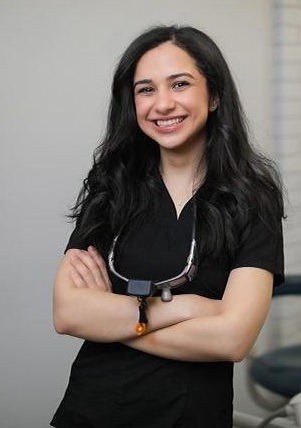 As one of our dedicated dentists, Dr. Musbah loves being able to help patients improve their oral/general health, whether that involves relieving serious pain or simply creating a brighter, more confident smile. She feels proud to work alongside such a great team every day too! Keep reading below if you're interested in learning more about her.
Why Did You Decide to Become a Dentist?
Both of Dr. Musbah's parents are dentists, so she grew up surrounded on all sides by LOTS of teeth-related talk. Originally, she wanted to become anything BUT a dentist, but over the summer one year, she took a job as a sterilization technician in a dental clinic and fell in love, just like that. She values the relationships she builds as a practicing dentist, as well as the hands-on aspect of the profession. It truly is the perfect fit for her!
Where Did You Study Dentistry?
Dr. Musbah actually attended dental school at James Cook University in Australia. Her university had a special focus on rural, remote, and indigenous health, and a majority of the program's clinical placements were in underserved communities around the country, which prompted her passion for charity work. To this day, she loves going on dental volunteer trips! So far, she's been to Nepal and Cambodia. She is also currently a member of the Alberta Dental Association.

Outside of the Dental Office, What Do You Like to Do?
When she isn't busy with improving teeth, Dr. Musbah enjoys spending quality time with her family, traveling, practicing photography, hiking (or doing pretty much anything outdoors), and reading. She's also a little addicted to podcasts – true crime is her favorite!